Instructional Programs
High quality instructional programs for all ages are offered year round at Mary Wayte Pool.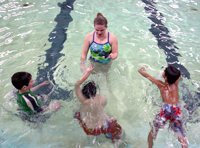 Swimming Lessons
Swim lessons for all abilities are available year round for students from 6 months of age through Senior Citizens.
Click here for on-line lesson schedule and registration.
Placement tests are held free of charge to determine proper class level. Private lessons are also available. We offer morning and early evening lessons. Please call or stop by for a class schedule and registration information.
Lesson Registration Policy—Each lesson series is open for registration, with payment, three months before the lesson series begins. Each patron may be registered in a maximum of two lesson series, including the current lesson series. Phone registration requires VISA, MasterCard, Discover, and American Express. For specific enrollment information, stop by or call.
Free Placement Tests—Patrons who have not attended lessons in the six months prior to the start of a lesson series may be required to have a placement test prior to registering for lessons. The placement test includes an introduction to the pool and evaluates the student's readiness, responsiveness and skill knowledge. Proper class placement is vital to the student's success. Please call the pool to set up an appointment.
Pre-Competitive Swimming
Mary Wayte Pool has a pre-competitive program called the Riptides. Click here for the Riptides schedule. The team is for children who seek more advanced skills and exercise in preparation for competitive teams.
Click here for on-line info/registration.
Competitive Swimming
Olympic Cascade Aquatics offers one of the most successful competitive USA Swimming teams in the Pacific Northwest serving children age 5-18. The team provides high quality professional coaching and preparation for success at the highest levels of competitive swimming.
Please click here for more information.
Mary Wayte Pool is also home to the Mercer Island High School Boys and Girls Swimming teams who have captured numerous Washingon State team titles.

Red Cross Aquatic Safety Courses